BODRUNOV SERGEY DMITRIEVICH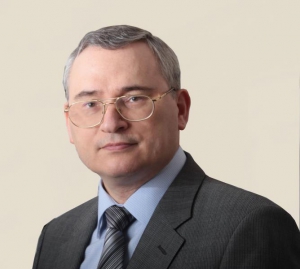 Sergey Dmitrievich Bodrunov was born on August 25, 1958 in Gomel.
Lived in Belarus until 1990.
In 1975, graduated from high school cum laude (was awarded the gold medal for academic excellence). Also graduated from the All-Union Distance Learning Physics and Math School affiliated with M.V. Lomonosov Moscow State University. As a high school student, won numerous contests and competitions in various subjects. Studied music professionally at a music school.
In 1980, graduated from the Mathematics Department of Francisk Skorina Gomel State University with a degree in mathematics/engineering, qualification of information technologies specialist and teaching certification in mathematics. Was a Komsomol activist and served as the Secretary of the University Komsomol organization (with the mandate of a district committee).
In 1980-85, worked as a Research Associate at the Systems Programming Research Laboratory and Mathematical Problems of Management Department of Gomel State University.
In 1985, completed graduate school at Gomel State University.
In 1985-90, served as the Director of Gomel Center of Research and Technical Information, Chairman of the Board at Joint Enterprise "Infoteh" and General Director of Belarus Agency for Research and Technical Information (organized as a group of companies).
After the collapse of the U.S.S.R., moved to Saint Petersburg. In 1991, became a citizen of the Russian Federation.
In 1990, defended his dissertation in economics at Plekhanov Russian University of Economics in Moscow. In the same year, graduated from ICHEC Brussels Management School.
Since 1982, has been actively involved in teaching and research.
In 1991-94, concurrently taught, engaged in business operations and pursued a postgraduate degree at Plekhanov Russian University of Economics.
In 1995, was awarded the degree of Doctor of Economics.
Following the decision of the General Meeting of the Russian Academy of Sciences of June 2, 2022, S.D. Bodrunov has been elected a corresponding member of the RAS in the Department of Social Sciences of the RAS (in the field of Economics).
Since 2002, has been tenured at St. Petersburg State University of Aerospace Instrumentation (Information Technology Management Department) and working as a Visiting Professor and part-time faculty at several Russian universities.
Sergey Bodrunov's public activities involve the study of global industrial development processes and industrial development of Russia's national and regional economies. He has served on councils and executive boards of professional industrial non-commercial organizations and associations (Russian Union of Industrialists and Entrepreneurs, National Association of Automotive Component Manufacturers of Russia, etc.). Since 2004, Bodrunov has been First Vice-President of the Union of Industrialists and Entrepreneurs of St. Petersburg (responsible for the development of scientifically substantiated concepts for the creation and development of industrial clusters at industrial facilities located in St. Petersburg).
Academician of the International Academy of Management and St. Petersburg Engineering Academy.
Honorary Doctor of Plekhanov Russian University of Economics, Ural State University of Economics (Ekaterinburg) and Francisk Skorina Gomel State University (Belarus).
Founder and director of non-governmental non-commercial partnership on assistance in carrying out of scientific researches "Institute of new industrial development (INID) n.a. S.Y. Vitte" (created under the auspices of the Research Center for Aircraft Making Economy that operated since 1999). The Institute of New Industrial Development (INID) specializes in the study of issues related to the reindustrialization of the Russian economy, technological and economic mechanisms and instruments of modernization, foresight on medium- and long-term institutional, economic and technological effects, etc. Since 2012, the INID has been working under the supervision of the Russian Academy of Sciences and is part of the Social Sciences Division System of the RAS (SSD RAS Resolution of May 21, 2012).
Editor-in-Chief of Economic Revival of Russia journal (published since 1915). The journal reflects the full spectrum of research performed at the S.Y.Witte Institute for New Industrial Development. Journal articles focus on current issues of Russia's economic development and the formation of industrial policy objectives at various management levels.
Editor-in-Chief of the Noonomy and Noosociety. Almanac of Scientific Works of the S.Y. Witte INID scientific journal. The topic of the journal covers the issues addressed by the concept of New Industrial Society of the second generation (NIS.2) and the theory of noonomy.
Sergey Bodrunov has been serving on Editorial Boards of the Economic Science of Modern Russia, Finance: Theory and Practice and Journal of New Economy and is a member of the International Council of the World of Transformations journal. He is also Editor-in-Chief of the Russian Aircraft Electronics: An Encyclopedia, Publications of the Free Economic Society of Russia journal, analytical periodical Talks on the Economy and Free Economy magazine.
Since 2016, Sergey Bodrunov has been President of All-Russia public organization Free Economic Society of Russia (successor to the Imperial Free Economic Society of Russia, which will celebrate its 255th anniversary in 2020). Further information on the Free Economic Society of Russia (VEO of Russia) is available at www.veorus.ru.
Since 2018, Bodrunov has served as President of the International Union of Economists (IUE). Further information on the IUE is available at www.iuecon.org.
Sergey Bodrunov is a prominent expert in macroeconomics and industrial development. Over the past 10 years, he has been an active contributor at major scientific economic forums, participated in more than 120 Russian and international economic conferences (in Russia, Belarus, Italy, Switzerland, PRC, Germany, India, Great Britain, Portugal, Belgium, etc.) and presented over 300 conference papers, most of them published in scholarly journals.
Sergey Bodrunov has authored more than 800 scholarly publications printed in Russia and abroad, including 35 monographs.
His core research involves theoretical studies in the following areas: industrial development of the economy; application of information technologies in the implementation of economic solutions; theoretical and practical approaches to the creation of conceptual platforms for the development of complex industrial sectors of the economy (in particular, aircraft making and instrumentation); innovative and investment economic parameters; and intellectualization of labor in the future economy. A prominent expert on reindustrialization of the Russian economy and the developer of relevant strategy, Bodrunov has introduced the concepts of a new industrial society of the second generation and nooindustrial development and the theory of noonomy.
In July 2018, his monograph Noonomy won the Distinguished Achievement Award in Political Economy for the Twenty-First Century conferred by the World Association for Political Economy (WAPE).
Sergey Bodrunov organizes and partakes in a wide range of public and educational activities. Under his guidance, the Free Economic Society of Russia launched and is successfully implementing large-scale national and international projects that promote awareness and seek to popularize the economic science.
Bodrunov makes regular appearances on the Public Television of Russia (OTR) and St. Petersburg TV network as an author and host of House 'E' (airing since 2016) and Industrial Club (airing since 2010) analytical programs about the economy. Further information and videos are available at https://otr-online.ru/programmy/dom-e/ and https://topspb.tv/programs/996/.
Sergey Bodrunov serves as the founder, organizer and Chairman of the Organizing Committee of the annual (since 2014) Saint Petersburg International Economic Congress (SPEC) and Chairman of the Scientific Congress Production. Science. Education, which has been held since 2015. He attends and co-organizes many research events both in Russia and abroad. He has also participated in Cambridge Economic Theory Workshop. Sergey Bodrunov co-chairs the Moscow Academic Economic Forum (MAEF), Russia's major academic and research event, alongside the President of the RAS. Further information on the MAEF is available at https://maef.veorus.ru/).
In addition to working in education and conducting research, Sergey Bodrunov partook in the management of several companies specializing in the development and production of science and technology solutions (hardware and software complexes, instruments and software) for the automobile industry, railway engineering and aviation technology, as well as IT technologies. For example, in 2000-05, he participated in the development of and invested in PayCash (U.S.), Yandex Money (payment service used by Yandex, a major Internet search engine) and a number of similar projects. On several occasions, Bodrunov, powered by scientific solutions, invested in the creation and development of various business structures and companies in the aforementioned segments. In 2005-09, he served as the head of the St. Petersburg Association of Automotive Component Manufacturers.
As a practicing economist and private investor, in 2006 Sergey Bodrunov established the Saint-Petersburg Investments Company (SPIC) that currently constitutes his main asset. The SPIC specializes in direct and portfolio investments in industrial stock (mainly in automotive component manufacturing), real estate management, financial institutions and IT companies. In particular, the SPIC is the principal (majority) stakeholder in Croatia's AD Plastik concern (formerly known as Yugoslavia's largest concern "Jugoplastika"), which manufactures automotive parts and accessories. AD Plastik operates 9 plants in 5 European countries and Russia and is working with the following major automotive component manufacturers at the first and second levels of cooperation: Volkswagen, Ford, Renault, AvtoVAZ, BMW, Suzuki, FIAT, Peugeot-Citroen, Bentley, etc. The SPIC is predominantly investing in real estate: commercial real estate (technoparks and business centers in Moscow, St. Petersburg and other Russian cities); residential property in Moscow, St. Petersburg and other locations around the world; and land lots in Russia (for commercial use). In the finance sector, the SPIC holds sizable investments in Russian and foreign financial instruments.
Married. Has two grown daughters and a granddaughter.